Children's Eye Health Care
Specialist is Founder
of Zietchick Research Institute
---
Dr. Tammy Z. Movsas, MD, MPH  is an eye health care specialist and founder of Zietchick Research Institute (ZRI). She  is board-certified in ophthalmology and preventive medicine.  She is fellowship-trained in pediatric ophthalmology, neuro-ophthalmology and perinatal epidemiology.
In 2012, filled with entrepreneurial spirit, Dr. Tammy Movsas launched Zietchick Research Institute, LLC   in order to develop novel treatments for  eye diseases that affect children and adults.
Dr. Movsas has special expertise  in retinopathy of prematurity (ROP), a potentially blinding eye disease that affects very premature infants. Her research on ROP  has been published in many high tier journals such as in JAAPOS (Journal of the American Academy of Pediatric Ophthalmology and Strabismus) and JAMA Pediatrics (Journal of the American Medical Association-Pediatrics).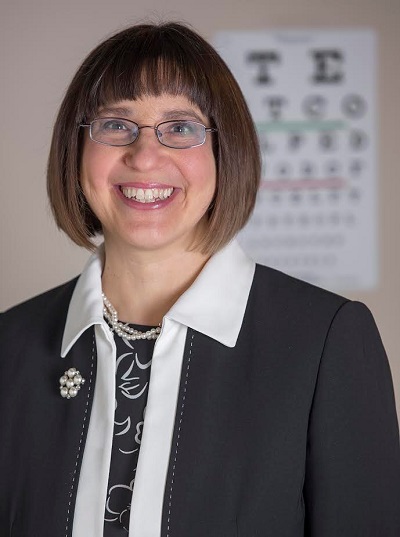 Zietchick Research Institute has been awarded NIH funding to perform
its unique eye health care research

Within a year of its founding,  Zietchick Research Institute was awarded a competitive federal grant from the Eunice Kennedy Shriver National Institute of Child Health and Development, one of the institutes of National Institute of Health (NIH). Since that time,  Zietchick is pleased to have  received additional NIH grants from the National Eye Institute  as well as grants from the State of Michigan.  All of these grants  have been providing  essential funds for  Zietchick to carry out its  vision research.

---
Dr. Movsas' Background
in Eye Health Care and Public Health Care
After graduating in 1986, cum laude in Biochemistry and Molecular Biology, from Harvard University, Dr. Tammy Movsas attended the Washington University School of Medicine in St. Louis. She graduated with a medical degree in 1990 and then began her eye health care training health as a resident in ophthalmology at the Washington National Eye Center in DC. During her ophthalmology training, she documented that the long term visual changes may result from pituitary radiation. This work earned her the William JG Davis Award for Best Resident's Day Paper in Ophthalmology in 1993 and was subsequently published in the leading journal for radiation oncology. (International Journal of Radiation Oncology, Biology, Physics. 1995; 33(3):599-605). By the end of her ophthalmology training, she developed an interest in children's eyes with a special focus on how the  developing brain affects the developing eye. To pursue this specialized field in pediatric neurological eye care, she completed a fellowship in pediatric ophthalmology at St Christopher's Hospital for Children in Philadelphia, followed by a neuro-ophthalmology fellowship at the University of Pennsylvania.
Dr. Movsas practiced as a clinical eye specialist in pediatric ophthalmology and neuro-ophthalmology for 12 years before  re-focusing her career on research and public health.  To acquire the necessary skills for this, she trained in a preventive medicine residency at University of Michigan between 2008 and 2010. This training enabled her to become board-certified in preventive medicine as well as earn a Masters of Public Health degree in epidemiology. Subsequent to that, she completed a child/maternal health epidemiology fellowship at Michigan State University and was then appointed as the Medical Director of the Midland County Department of Public Health (which is a part-time position that she currently still holds).
Dr. Tammy Movsas' Past Awards:
Years before the founding of Zietchick Research Institute,  Dr. Tammy Movsas, entered the field of eye health care, she demonstrated her passion for medical innovation through a variety of endeavors.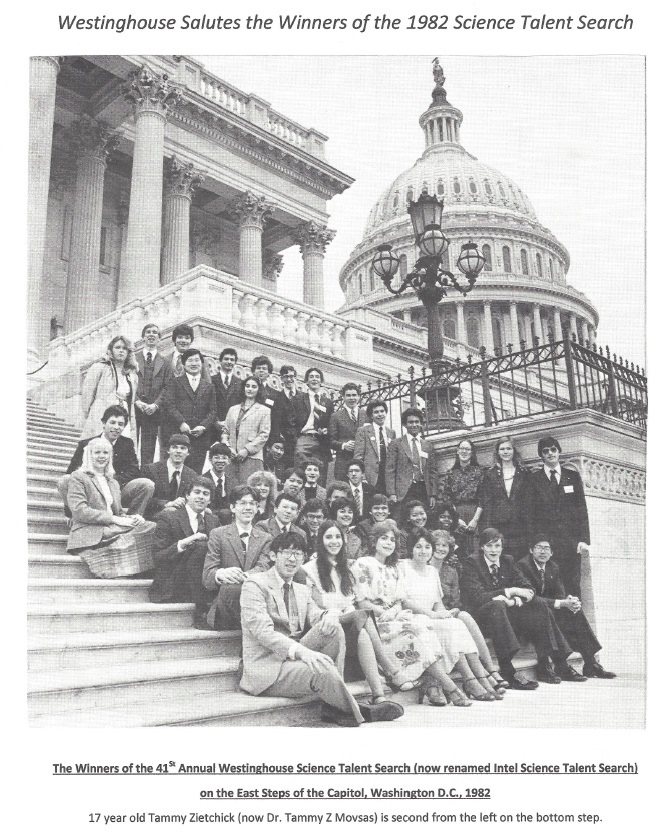 (Click to enlarge.)
Dr. Tammy Movsas has been a past recipient of one of the prestigious Westinghouse Science Talent Search Awards (now called Intel Science Talent Award) for her work in cancer biology for which she received a college scholarship, an invitation to the White House and a letter of commendation from President Reagan.  That same year, she also received the American Veterinary Association Biomedical Research Award and 4th Grand Prize in Biochemistry at an International Science Convention in Austin, Texas.  The following summer, she worked at the McArdle Laboratory for Cancer Research in Madison, Wisconsin under the extraordinary mentorship of Nobel Prize Winner, Dr. Howard Temin (discoverer of reverse transcriptase).  
Her other notable achievements have included New York Governor's Committee on Scholastic Achievement Scholarship, the American Isobel L. Brigg's Fellowship for Medical School by Harvard University, The Washington University Edward Massie Prize for Excellence In Cardiology,  and William JG Davis Award for Best Resident's Day Paper in Ophthalmology. She has also more been a finalist in the  Invent Now Competition by the American Inventor's Hall of Fame as well as a finalist the Sir A William Liley Essay Contest by the American Academy of Medical Ethics. 

Home > Children's Eye Health Care Specialist is ZRI's Founder