Pediatric Eye Care Study Headed by Dr. Tammy Z Movsas, Current Director of Zietchick Research Institute (ZRI)
Pediatric eye care specialists, such as Dr. Tammy Movsas (Founder of Zietchick Research Institute) examine the eyes of very premature infants during the newborn  period to screen them for retinopathy of prematurity (ROP). ROP is a serious eye disorder can affect the visual development of babies that are born before their eyes are fully developed.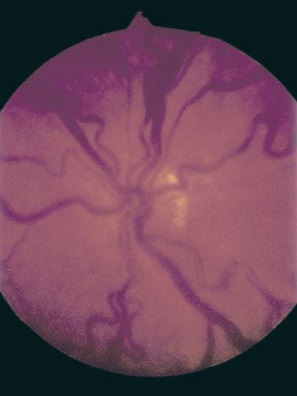 Photo credit: AAO, copyright 2016
Advanced Retinopathy of Prematurity in a premature baby's eye. The presence of wavy blood vessels seen in the photo is called plus disease. Blood can seen leaking from the abnormal vessels in the retina.

Under normal circumstances of pregnancy, the eyes of the fetus continue to develop in the uterus for the full 40 week length of normal gestation. However, whenever premature birth disrupts the normal length of the pregnancy, the preemie baby is born with eyes that are not yet fully vascularized. What this means is that not all the blood vessels that are required to nourish the back layer of the eye (called the retina) are formed yet in the eyes of preemies.

Though the retinal blood vessels of  most preemies do sprout normally after birth, there are many preterm babies, particularly those who were born extremely early (such as before 32 weeks of gestational age) whose blood vessels do not develop normally after birth.  The eyes of babies who were born with very low birthweights have a tendency to form abnormal, leaky blood vessels that can bleed and in some circumstances, pull retina off from the back of the eye. This can result in blindness or visual disability.
Director of Zietchick Research Institute, Dr. Tammy Movsas, has recently served as the head investigator of an important pediatric eye care research study (summarized below) as part of her quest to search for new ways to prevent retinopathy of prematurity from occurring in extremely premature babies.

By Tammy Z. Movsas, MD, MPH, Alan R. Spitzer, MD, and Ira H. Gewolb, MD,'

DOI: http://dx.doi.org/10.1016/j.jaapos.2016.05.008. The full manuscript of this study is published online as well as in the print version of JAAPOS Volume 19, Issue 6 (December 2016).  Of note, the Journal of AAPOS (www.jaapos.org), published by Elsevier, is the official  journal of the American Academy of Pediatric Ophthalmology and Strabismus (commonly abbreviated as AAPOS).
All articles accepted for publication into JAAPOS are deemed to represent expert information by pediatric eye care researchers from all over the world covering all types of children's eye disorders. JAAPOS  Editor-in-Chief William V. Good, MD, and Managing Editor Thomas Kozachek, PhD, selected this ROP study led by ZRI's Director, Dr. Tammy Movsas, to be part of  an media outreach initiative and distributed  a  news release regarding this study on August 16, 2016 to 300+ journalists on Elsevier's J AAPOS media list. Below we present a synopsis of this important pediatric eye care research regarding steroid use in the postnatal period and ROP:
Pediatric Eye Care Research Details:
Though all premature babies (babies born before 38 weeks of gestational age) are at some risk for developing retinopathy of prematurity, a preemie baby who has been born before 32 weeks gestational age and/or with a birth weight less than 1500 g (3.3 lbs) is at increased risk for this disorder. The chances that a premature infant will develop ROP increases as the gestational age and birthweight of the preemie infant decreases. For example, a baby that is born at 500  grams is at higher risk for ROP than a baby who was born at 1000 grams.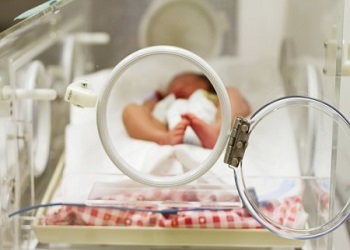 Thanks to modern medical technology and treatments, approx 90% of premature, very low birth weights  babies now survive.  However, at the present time, a preemie baby born with a birth weight of approx 500 g (or 1.1 lbs) is at the lower limit of compatibility with life.  Babies born with birth weights <500g are extremely fragile and are at the highest risk for many neonatal morbidities such as ROP.  

Preemie babies who were born with very low birth weights are also at increased risk for a lung disorder called bronchopulmonary dysplasia. Sometimes, steroids  (also called corticosteroids) are given to premature newborns to promote lung development.  That said, there is increasing evidence that the use of steroids in neonates may negatively impact their brain development.  In this pediatric eye care study by Movsas, Spitzer and Gewolb, the investigators evaluated the effect of steroids on visual development in extremely premature infants (those with birthweights of <500 g).
Study Data:
The Pediatrix BabySteps Clinical Data Warehouse (CDW)  is one of the world's largest databases of neonatal health records. Data for this study was collected the the from Pediatrix BabySteps CDW. The study group for this pediatric eye care study consisted of nearly 1500  extremely premature infants who were born at >150 hospitals throughout the U.S. between 1996 and 2013. The participants in this vision research study met three primary criteria: birth weight of less than 500 grams, discharged from hospital alive, and availability of eye exam results.  By utilizing neonates with birth weights less than 500 grams, this study group  represented a more homogeneous set of preemies than study groups in other prior studies that utilized data from sets of  preemies with a broader range of birthweights. A preemie baby  born with a critically low birth weight (of <500g)  is at the absolute highest risk for many neonatal morbidities including vision and lung problems. Thus, clinical differences between the premature babies in this study who did and didn't receive steroids are minimized (though not eliminated) .

Study Results:
The results of this pediatric eye care study indicate that after correcting for lung problems and other factors that can increase ROP risk (such as gestational age), premature infants who were treated with steroids  have a higher probability of developing ROP. The incidence of ROP  (of any stage) was significantly higher in steroid-treated neonates (80.5%) than in nontreated neonates. (66.8%). For advanced stage ROP, incidence was also significantly higher in the steroid-treated group (35.3%) compared to the untreated group (21.1%).  

This study of a large database of premature infants indicate that steroid-treated preemies have a modest but significantly increased chance of needing pediatric eye care for retinopathy of prematurity. That said, clinicians need to use their best judgment to balance the positive effects of steroids on developing lungs with the potential adverse effects on developing eyes.  In some cases, the administration of corticosteroids in the newborn period is essential for extremely premature infants to survive. This study has potential clinical significance since children with a history of ROP are not only at increased risk for visual disabilities from the ROP itself, but are also at increased risk for developing other ocular disorders later in life such as near-sightedness (myopia), retinal detachments and glaucoma.
Want to Keep Up-to-Date on the research at Zietchick Research Institute?
 Subscribe to The Zietchick  Family Eye Health Newsletter:

Home > Pediatric Eye Care Study Headed by ZRI Director, Dr. Tammy Z Movsas